Sunshine cleaners is a family-owned dry cleaning business that has operated in the Baton Rouge area since 1994. With a combined experience of over 70 years, our knowledgeable and professional staff will take expert care of your garments; we treat them as our own.
We have two store-fronts; one off Highland Rd in Baton Rouge, and the other in Dutchtwon (Prairieville). Additionally, we offer a professional route service for pick-up and delivery. With 6 route developers on staff, we service Baton Rouge and most of the surrounding areas; areas such as Denham Springs, Prairieville, and Central. Whether you need your clothes picked up at home or the office, we can make it easy and convenient.
We at Sunshine Cleaners look forward to servicing your dry cleaning needs for years to come!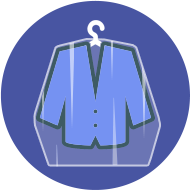 Baton Rouge
16645 Highland Road, Suite A
Baton Rouge, Louisiana 70810
Highland Place Shopping Center
225-753-4060
Directions
Monday - Friday: 6:30a - 6:30p
Saturdays: 9:00a - 2:00p
Geismar
13375 Hwy 73, Suite K
Geismar, Louisiana 70734
Dutchtown Crossing Shopping Center
225-313-6798
Directions