We are a thriving dry cleaning business in the Greater Baton Rouge area with openings for these positions to help us to continue growing our business.
We are searching for:
Customer Service Representatives: this job consists of "tagging" in our customers clothing, answering phones and providing exceptional customer service in all aspects, etc.
Route Drivers/Developers: this job consists of picking up and delivering clothes to our many customers throughout the Baton Rouge area. This job requires a valid driver's license, clean driving record, getting on and off of a van many times daily and exceptional customer service, etc.
Presser: this job consists of pressing our customer's garments while standing on one's feet several hours per day, etc.
Part-time Sales: this job consists of growing our route service numbers. Pay is based on each new customer acquired.
You should also have reliable transportation to and from work.
This is a successful business that requires only the best to represent us. We are a busy and fun crew that are looking for new teammates. On-the-job training is provided, as well as competitive pay, paid time off, and paid vacation (for full-time employees). It will be a great opportunity for the right individuals.
If you are interested in applying for one of these positions, please submit your resume as well as which position you are applying for.
Thank you so much for your interest in these jobs!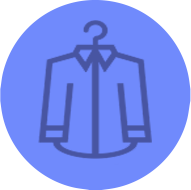 Monday - Friday: 6:30a - 6:30p
Saturdays: 9:00a - 2:00p
Baton Rouge
16645 Highland Road, Suite A
Baton Rouge, Louisiana 70810
Highland Place Shopping Center
225-753-4060 | Directions
New Roads
224 W. 5th St.
New Roads, LA  70760
Directions
Geismar
13375 Hwy 73, Suite K
Geismar, Louisiana 70734
Dutchtown Crossing Shopping Center
225-313-6798
| 
Directions